OnePlus 5 vs LG G6 Gaming Performance test!
Not a PC Gamer? Prefer playing games on your phone? Thinking to get a high-end device? This is the right post for you! We're here with the battle of the two high-end devices in terms of gaming, The OnePlus 5 vs Lg G6 gaming.
Talking about the hype OnePlus 5 had, it got the same attention after the launch too! The OnePlus 5 was bought by many people just after the launch on Amazon. The OnePlus 5 has an all-new design compared to the company's earlier devices, though many hate it because it may look similar to the iPhone 7 Plus. I'm sure you won't hate it when you see the hardware and performance of the device. So let's see OnePlus 5 vs LG G6 gaming test.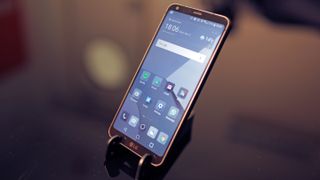 The LG G6 is pretty impressing too. Last year LG bought the LG G5 to the world and earlier this year we have the LG's latest flagship, LG G6. Just like the OnePlus 5, the LG G6 too features rear dual cameras. So let's head on to our main topic, OnePlus 5 vs Lg G6 in gaming.
Also Read: How to – Fix Samsung Galaxy S8 overheating while charging
OnePlus 5 vs LG G6 Gaming
Games are fun only when you can play them without lag and good graphics. Both these devices being high-end flagships can run all most all games without any hassle.
A clear crisp display plays a very important role when you're gaming. The OnePlus 5 has a 1080p 5.5inch Full HD display while the LG G6 18:9 5.7inch display. The LG G6 is a bit bigger than the OnePlus 5 which doesn't matter a lot. Both of the devices have a low screen: body ration which may enhance your gaming experience. The OnePlus 5's Home button may interrupt you a lot while gaming you'll have to be careful you don't accidentally press it a lot :p
Still confused, give this a read – OnePlus 5 vs Samsung Galaxy S7 edge – Which one to buy
When it comes to the hardware point of view the OnePlus 5 comes with a Snapdragon 835 Octa-Core processor along with Adreno 540 GPU. The LG G6 comes with the Snapdragon 821 processor with 4GB of RAM and an Adreno 530 GPU.
Here the OnePlus 5 being the latest flagships uses a better GPU and Processor than the LG G6 which was released earlier. So obviously games will work better on the OnePlus 5 by looking at the hardware specs. We've also have heard that the OnePlus 5 ain't programmed well to give up to the mark performance at the moment. We expect the problem to be solved in the next OxygenOS update which will be out very soon. The LG G6 is also almost as good as the OnePlus 5, the device won't lag or give bad graphics and it game crashing issues will be low too. Also now Android has a lot of new games with great graphics and story which these devices can easily handle without any issues.
Looking for a Bluetooth Speaker? Here you go – Logitech X50 Review
OnePlus 5 vs LG G6 Gaming – Final Verdict
Buying a OnePlus 5 or an LG G6 doesn't make a lot of difference in the field of gaming. When you're looking to buy a device for everyday use + gaming, the OnePlus 5 will be given more preference. The LG G6 is an older device has an old processor and other hardware. Obviously, people will opt for the latest hardware, but that's just for gaming. We still believe the LG G6 is a better wholesome mobile than the OnePlus 5.
OnePlus introduces new Thunder Purple Colour for OnePlus 6T
The new Thunder Purple edition will go on sale on Amazon.in, oneplus.in, Reliance Digital and Croma stores and all OnePlus exclusive offline channels starting 16 November, 2018
Bangalore, 12 November 2018: Taking design inspiration from 'lightning strikes at dusk', the limited edition OnePlus 6T Thunder Purple will be coming to India starting November 16, 2018.
The special edition of the much-lauded OnePlus 6T comes with a gradient back that fades from black to purple under the frosted glass-backed OnePlus 6T, with the evocative 'S' curve racing across the back and highlighting the depth of colour. OnePlus has paid meticulous attention to detail to craft the perfect look, with a focus on how light reacts to the glass' haze, roughness, gloss, transparency and reflective qualities.
"The OnePlus 6T Thunder Purple is a stunning combination of power and beauty – the black-to-purple fade is like a thunderstorm on a summer night,"Pete Lau, Founder and CEO, OnePlus, said. "We experimented extensively to test how light interacts with the colours in order to give people what might just be our most beautiful design yet."
The OnePlus 6T is the company's most futuristic flagship till date with Screen Unlock on the immersive 6.41-inch Optic AMOLED display, class-leading hardware and meticulous industrial design to create the industry's fastest and smoothest smartphone experience. It features the latest, most powerful platform, Qualcomm Snapdragon 845, with up to 8GB of RAM that creates an experience that continues to set the standard for performance.
The OnePlus 6T Thunder Purple edition will be available from 16 November on Amazon.in, oneplus.in at 2 pm, and in Croma outlets, Reliance Digital outlets and all OnePlus exclusive offline stores starting 11 am. It comes packed with 8GB RAM and 128 GB storage, with the same price tag as the OnePlus 6T Midnight Black and Mirror Black, at INR 41,999.
For images of the OnePlus 6T Thunder Purple, click here.
For the OnePlus 6T Thunder Purples official product video, click here.
On purchase of the OnePlus 6T, users will receive additional benefits starting 16 November including:
INR 1500 cashback on all HDFC Bank Credit and Debit Cards

Reliance Jio and OnePlus have come together to offer OnePlus 6T Unlock The Speed Offer that gives users an instant cashback of INR 5,400 in vouchers on the first prepaid recharge of Rs 299 on www.jio.com, Reliance Digital stores, MyJio Stores, Jio retailers and the MyJio app. The plan will entitle them to 3GB 4G data per day with unlimited voice calls, SMS and access to Jio's premium applications. Effectively, the offer will bring a total of 3TB of 4G data to the users over 36 recharges

3 months of no-cost EMI on Amazon.in and OnePlus exclusive offline stores

Free damage protection for 12 months from Kotak Servify

Discounts up to INR 500 on Amazon Kindle on Amazon.in
How to Screen Record on Samsung Galaxy S9+ [No Root]
Samsung Galaxy S9 is one of the best phones available in the market. It has the flagship specs, great camera and one of the best displays a phone ever had. Fortnite, A battle royal game which has been very popular on iOS devices was also launched for S9. The S9 gives the best fortnite experience you can have on a mobile device. Now to show some of your fortnite skills, having a screen capture will be better compared to a screenshot so today we will show you how you can screen record on a Galaxy S9 or S9+. There are different methods to record screen on your phone, we will be showing you the best one. We will also show how you can then edit the video easily. So we will show you Methods to Screen Record on Samsung Galaxy S9.
How to – Screen Record on Samsung Galaxy S9+
Technokick recommends Accesories for S9+ Covers
Method 1
Go to this link
Install the app
It will ask for permission, grant it.
Now you will get a floating circle on the left side of your screen of the Galaxy  S9. Just press the Red button which has a Video Camera Icon. Refer to the image below-

Now once it has started, you can do all the stuff you want to show in your video and to stop it, You need to pull down the notification bar and press the stop icon on it.
Now you will get a pullout with the video, to save it just simply touch the back button on your Note 9 and that's it.
How to – View Screen Record on Samsung Galaxy S9+
Go to gallery
There should be a folder by name A-Z if not it could be inside the Collections folder.
Now from here, You can either view it or share it across different platforms like Whatsapp or Instagram.
How to – Edit the Screen Record on Samsung Galaxy S9+
Go to Playstore and download this app.
Now just select your video and start editing it!
Specs of S9+
Display
Size
6.2 Inch
Resolution
1440 x 2960 pixels
Performance
CPU
Quad core, 2.7 GHz + Quad core, 1.7 GHz, Samsung Exynos 9 Octa
RAM
6 GB
Storage
Internal memory
64 GB
External memory
Up to 400 GB
Battery
Capacity
3500 mAH, Li-ion, Non removable
Talktime
Up to 25 Hours (3G)
Camera
Primary camera
12 MP
Secondary camera
8 MP
Connectivity
Network support
Dual SIM 4G
Other options
Wi-Fi, Bluetooth 5.0, GPS
Others
Battery Capacity
3500mAh
Operating system
Android 8.0 Oreo
So were you able to screen record? Let us know in the comment section below!
I was just going through my email and found an email from a certain brand claiming that their phone is superior in Dual Sim technology, So I quickly opened it to see what new have they done, well all it was trying to say was that E-Sim is not supported by every telecom company and our phones uses conventional technology so we are better than apple. That got me thinking, I researched a bit and tried to look into all the carriers that support E-Sim. So here is my conclusion on E-Sim and if it is better than the conventional way.
E-Sims, Are they any Good?
Availability
So when we look at the list of carriers, almost all major US carriers support E-Sim. A few in Europe and a handful in India, namely Airtel and JIo. This state is right now when the new phones are not in the market, Once they get in, I expect more number of Companies getting into this boat. So what this means is that the chances are your carrier will provide E-Sim, If not now, then they will very soon.
Functionality
To switch a sim from One phone to another is very simple, all you need is a small pin to open the bracket, take the sim and transfer it to the other one. For E-Sim, If your phone to say is non-functional, You will need to go to the nearest store of your carrier and get a sim or register a new E-Sim for your new phone. Well, this is not as easy as the previous one and for me, I like to change my phones very often.
Benefits?
A nano sim may seem pretty small but is very big compared to the internals of a phone, I recently disassembled a OnePlus 3 and got to know just how much space both the sims take, So having an E-Sim will definitely save that space and for that space, you can get upto 20% more battery.
Verdict!
It will take another year or so before the E Sims become less of a hassle but it is the future and the ideal way to go. It creates a lot more possibilities and No Doubt E-Sims will take over and Now as Apple has done it, more and more companies will try to do so as well.
Subscribe to Blog via Email